Anike Bélanger lauréate nationale du « 2021 General Manager of the year» par Days Inn Canada
COMMUNIQUÉ DE PRESSE
POUR DIFFUSION IMMÉDIATE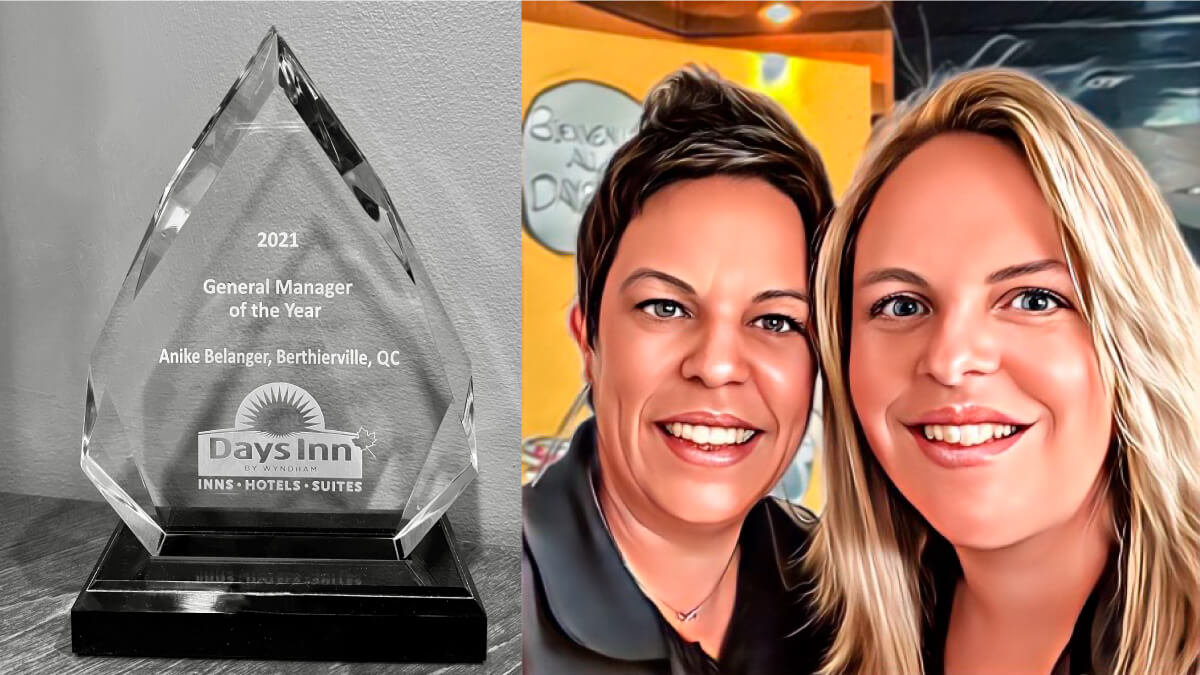 Berthierville, 24 mai 2022 — Anike Bélanger remporte le titre national de « 2021 General Manager of the Year » par Days Inn Canada.
Chaque année, Days Inn Canada souligne les établissements les plus performants de la chaîne lors de la remise de prix de reconnaissance. Ces mentions visent à souligner les réalisations exceptionnelles effectuées par les hôtels canadiens et leurs équipes. Parmi ces prix, on retrouve le « General Manager of the Year », traduit par Directeur Général de l'année, visant à mettre de l'avant une saine gestion axée sur la satisfaction des clients et une hospitalité hors pair. Démontrant un haut niveau d'engagement envers ses clients, offrant une expérience mémorable qui dépasse les attentes ainsi que l'implication locale, Anike Bélanger fut couronnée Directrice de l'année 2021.
« Si j'ai été nommé General Manager de l'année, c'est grâce à la super belle équipe qui m'entoure, mais aussi grâce à ma partenaire en or, Audrey Hatin, directrice adjointe. Elle et moi somme une équipe solide, un duo d'enfer, le Ying et Yang, alors ce prix lui revient tout autant. » de mentionner Anike Bélanger
Malgré les particularités du Québec à travers laquelle l'entreprise a dû faire face, c'est avec brio que la directrice générale Anike Bélanger, et son équipe, ont su se démarquer des autres établissements canadiens. "C'est encore plus gratifiant de recevoir ce prix cette année avec tout les défis que nous avons pu rencontrer."
C'est donc avec grande fierté qu'Anike affichera le prix à l'accueil de l'établissement, et s'assurera que chaque employé puisse ressentir ce même honneur.
L'hôtel Days Inn Berthierville, un hôtel familial distributeur de sourires
Source et information :
Anike Bélanger
Directrice générale
418-564-0755
anikebelanger@hotmail.ca